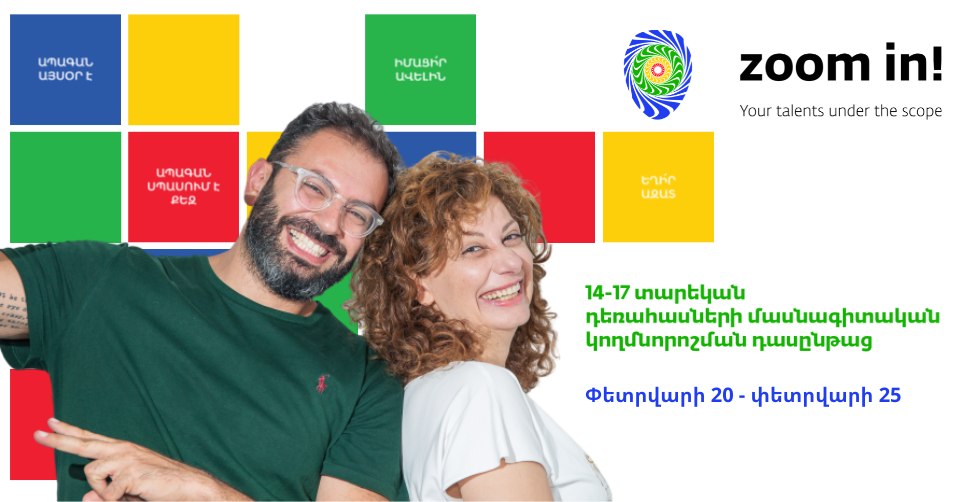 zoom in! career and professional orientation for teens
February 12
April 24
🔍 zoom in! career and professional orientation school is organizing yet another training for teenagers aged 14-17.
🔍 The 18-hour career guidance program that will help the teen better understand himself, develop his strengths, consciously approach the choice of profession and his future.
🔍 The trainers and authors of the program are Arpi Karapetyan and Sergey Tantushyan, thanks to whom teenagers will understand their abilities, inclinations, skills, motivations, aspirations, and then will be able to easily apply them when drawing their life path.
‍🎓 Participation in the course will help the teenager to understand:
✔️ understand who you are and what you want,

✔️ understand your strengths to build up on them in the future,

✔️ understand the key areas where you are interested to explore yourself,

✔️ understand what you like and what you dislike the most,

✔️ understand what motivates you and where you can give the best results,

✔️ understand yourself, your personality, your challenges and motivators,

✔️ come up with an action plan for the nearest future․
✨ At the end of the course, the teenagers will be able to outline an action plan to implement in the future.
📃 The first lesson will be FREE of charge (February 12 at 12:00) and with the participation of parents at str. Arami 80.
Discover the potential to pave your own path 🏆
❗️ In case of participation of two children from one family, a 10% discount will apply.