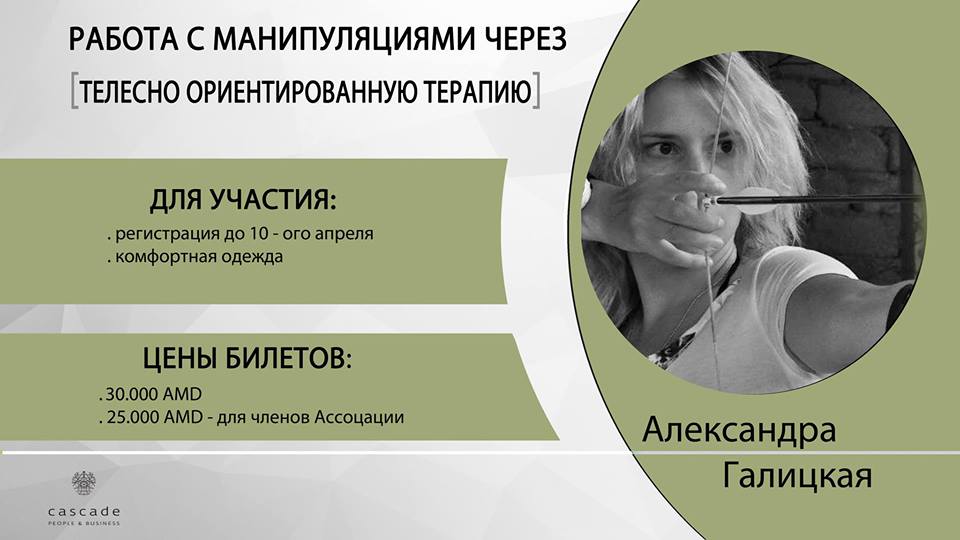 Working with manipulations through bodily-oriented therapy
April 21
Armenian HR Association is thrilled to announce our new training on the topic of "Working with manipulations through bodily-oriented therapy". 
Body-oriented therapy is a psychotherapeutic method based on the use of special physical exercises in combination with the psychological analysis of bodily sensations and emotional reactions of a person.
Training will be held by one of the most experienced High-Performance trainers in Russian Federation Aleksandra Galitskaya, who is also an experienced top-management advisor for leading companies such as ВТБ, Hyundai, Danon, Gazprom Neft and etc. She had been a speaker at different international forums and conferences in Great Britain, France, and Spain. She has also passed profile training in Academy for Transformational Coaching Leadership. She is a member of International Coaches Federation www.coachfederation.org .
Your gain from the training
• Deep understanding of one's body language and speech patterns
• Ability to conduct an effective discussion with any type of interlocutor
• Skills of preventing and blocking of manipulation in communication
• Systematic perception of the communication process
• Understanding the nature of stress and removing the accumulated stress
The training will be held on April 21st, at 12:00-18:00, Arami 80 str.
For registration please contact us at assistant@cascade.am or +37494584696.
Attention! There is a participation limit up to 15 people. 
Price List
• 30.000AMD for non-association members
• 25.000AMD for Armenian HR association members
We look forward to seeing you at the event!