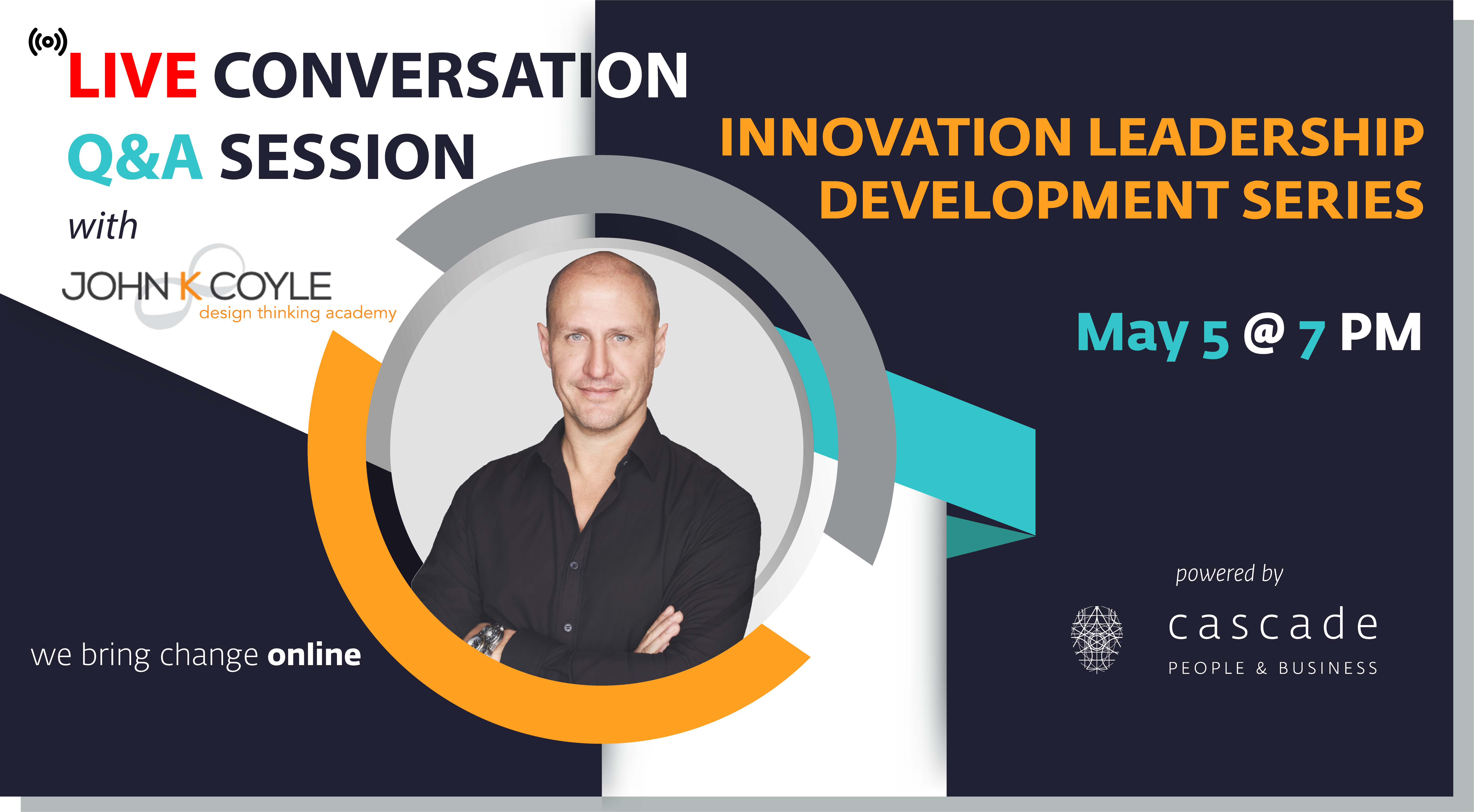 Live Conversation and Q&A Session with John K. Coyle
May 5, 2020
📊 Humanity is undergoing a global shift, inviting us to discover new ways of working, to lead our teams remotely in a new environment, to create a culture of engagement with the people that are no longer in front of your face, to solve old problems in new ways, etc.
👨‍💻 John K. Coyle, an expert in INNOVATION and Design Thinking, has developed the INNOVATION LEADERSHIP DEVEOPMENT SERIES that provides leaders with the mindsets, toolsets, and skillsets needed to reorganize, reshape, rebuild, and create a culture that empowers teams to develop innovative products and deliver them to market.
He was in Armenia not too long ago and had such an amazing experience seeing the country and the blossoming of innovation that is happening here. Inspired by this fact, the culture, and the people, and partnering with Cascade People & Business, John brings the Innovation & Design Thinking course to you.
Join us during the informative session to:
   🔸 Learn more about John,
   🔸 Learn about Design Thinking & Innovation,
   🔸 Learn about the course,
   🔸 Ask questions.
✅ John K. Coyle is one of the world's leading experts in "Design Thinking" and Innovation. He is the founder of the Design Thinking Academy, and a graduate of Stanford University with a degree in Engineering – Product Design (Design Thinking) and Northwestern's Kellogg Graduate School with an MBA in organizational behavior, marketing, and entrepreneurship. He has served as head of innovation for a Fortune 500 wireless telecom and SVP of innovation for a leading strategy consultancy.
✅ John is a world-class athlete in two sports (cycling and speedskating) and an Olympic silver medalist, as well as an NBC Olympic Sports analyst, and a guest lecturer on Innovation at several leading universities (Kellogg, Marquette, CEDIM). John is a two time TEDx speaker, and an award-winning author of two books, including the 2018 best seller: Design For Strengths: Applying Design Thinking to Individual and Team Strengths.
❗ To JOIN the Session, hear John and ask questions, follow the link for registration: