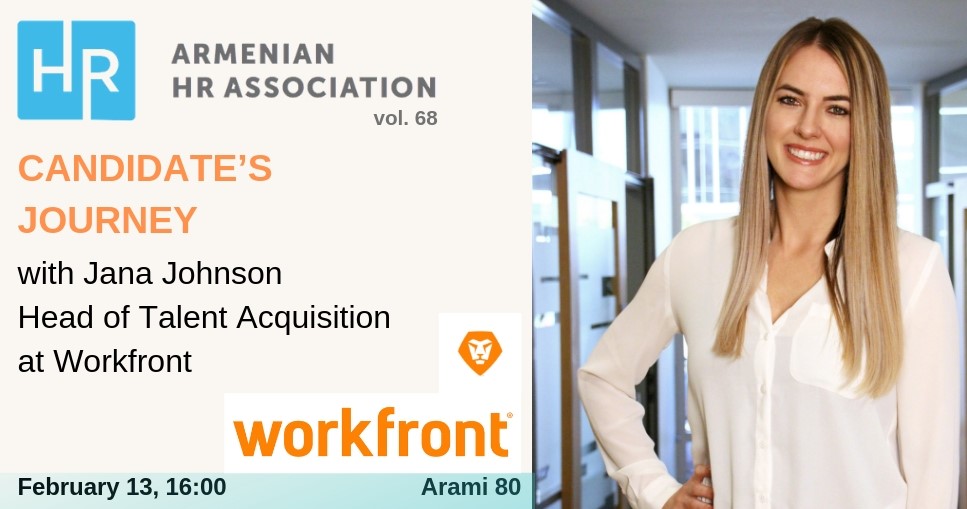 Candidate's Journey
February 13
We are happy to inform you that Armenian HR Association cooperating with Workfront presents the first HR Club of 2019, which will take place on February 13 at 16:00-18:00.
The topic of the meeting is "Candidate's journey". The meeting will take place at Arami 80, Cascade People & Business office.
Our guest speaker will be Jana Johnson, a Utah Valley University alumni, who is the Head of Talent Acquisition at Workfront, where she uses her Marketing and Human Resources background to build the company's talent worldwide, through Talent Branding, Recruiting and People Operations.
Jana Johnson with Talent Acquisition team at Workfront created a candidate's journey that changed the candidate experience and the way Workfront attracts and acquires talent.
Do you want to know what a candidate journey is?
How that helps to improve the candidate experience, solidify a recruitment marketing strategy and standardize the global hiring process, then join Jana on February 13 at 16:00  to hear more about the findings from this work and how Workfront improved a great hiring process to be even better!
◾️Participation fee for Armenian HR Association members is free.
◾️Participation fee for non-members is 5000AMD.
Please confirm your participation by sending an email to:
assistant@hrclub.am
or by calling: (+374) 10 584696 
The Deadline for Registration is the 8th of February.